1
« on: 17 September 2018, 12:19:44 »

Since you'll need a press to get the rear bush out and the new one back in again, you may as well use the same press to get the old front bush out too. Or at least try to.




pressing the rear bushes isn't a problem. But the size and shape of the wishbone requires a press with a very large frame - they don't fit in my 10 ton floor standing press. And like any press job you'll need suitable tools to drive the bush with and into.

I've got one of these :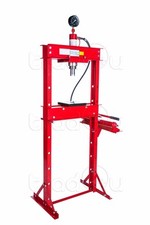 The suspension arm is thin enough to go through the slot in the pressing girder bit, although yes you need suitably sized mandrels to press with/against. I have got one wishbone on the shelf where the front bush refuses to budge even with 20T on it though. I haven't admitted defeat yet though :-)
I think I agree with the other suggestions though. Buy a pair of cheep 'bones of eBay and fit them. Once the old bones are off, assuming they are genuine GM get them stripped down, re-painted/powder coated and re-bushed using poly fronts and genuine GM rears. Then if/when the cheapo ones fail (might last a year or ten depending how you drive) swap your refurbed pairs back in again.